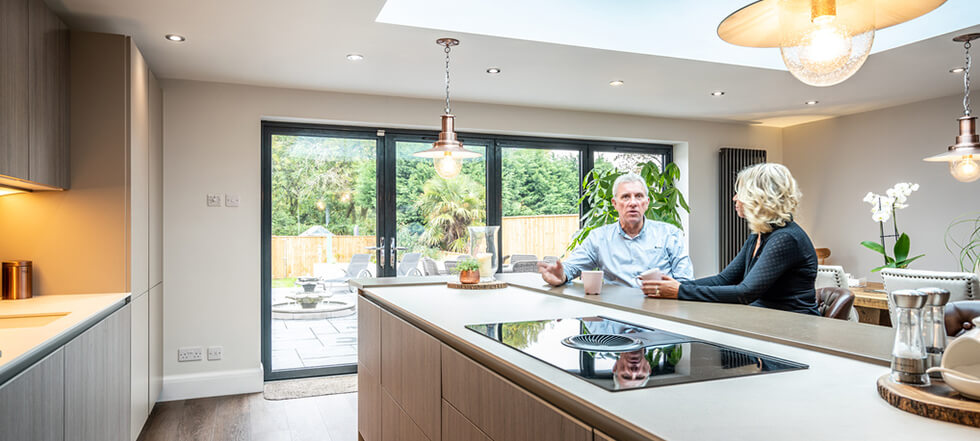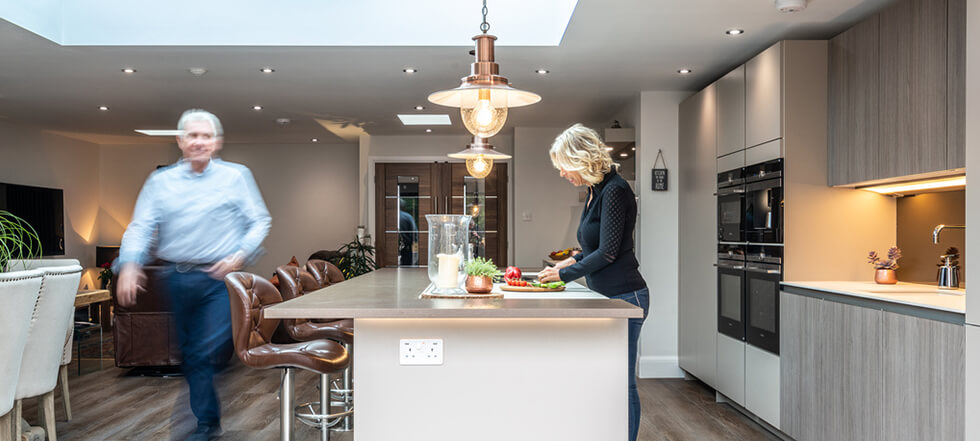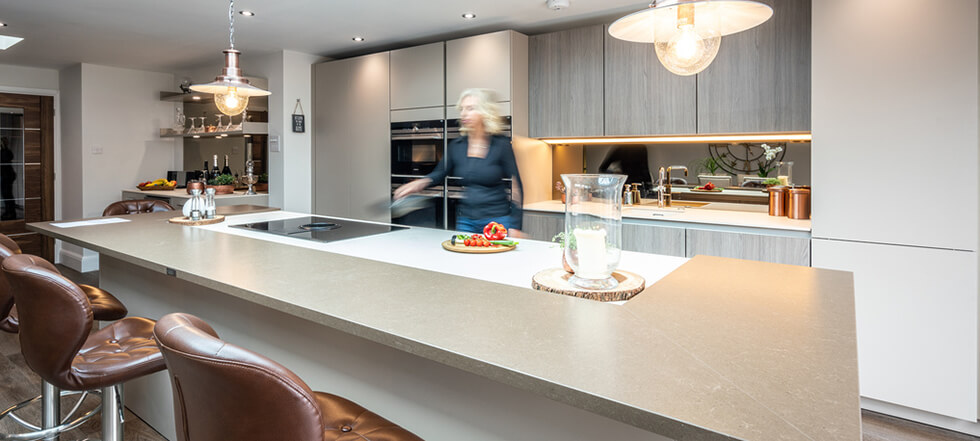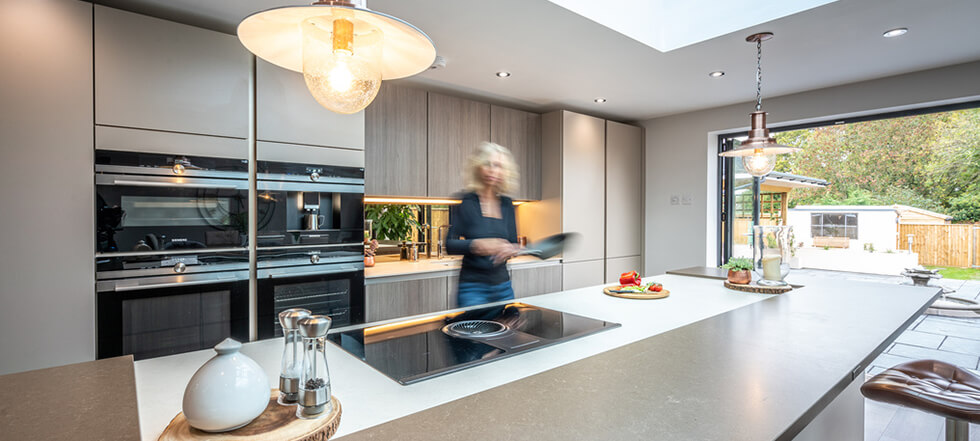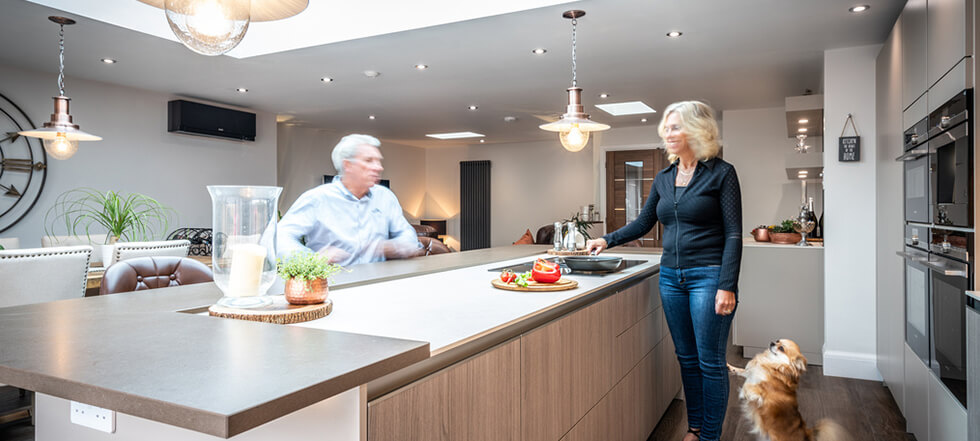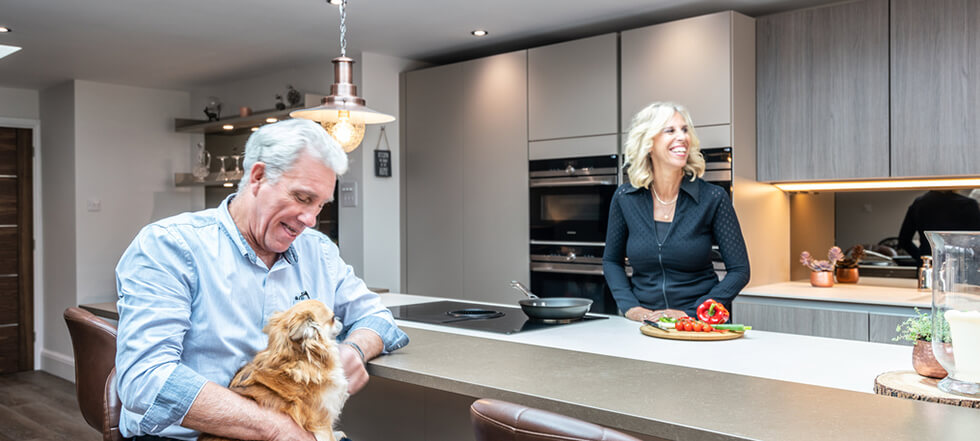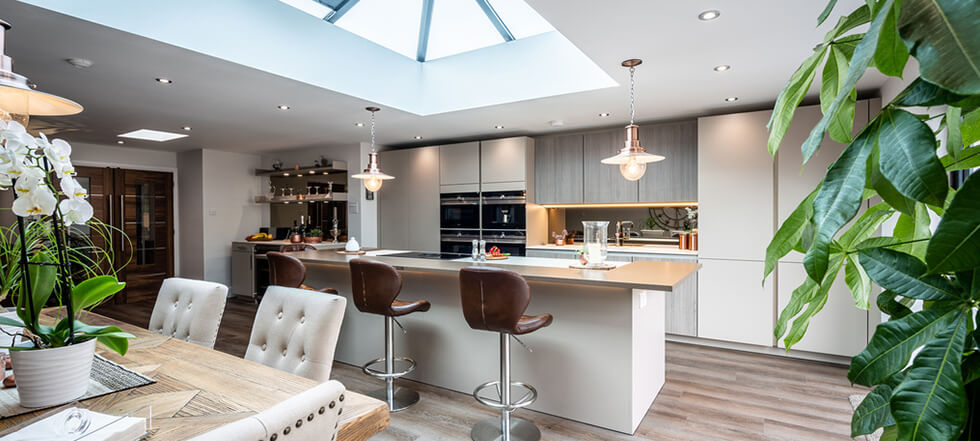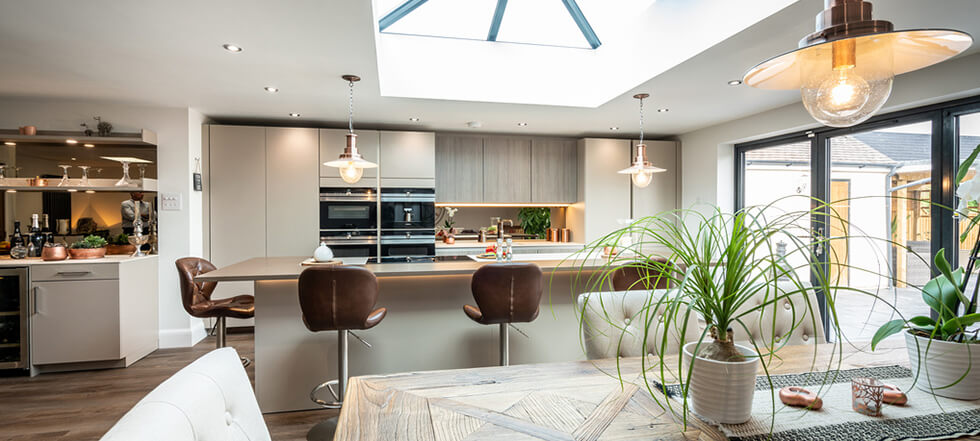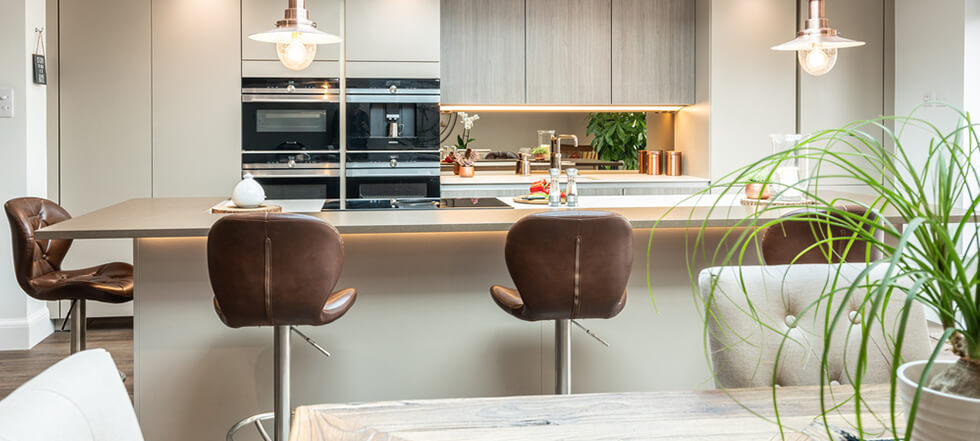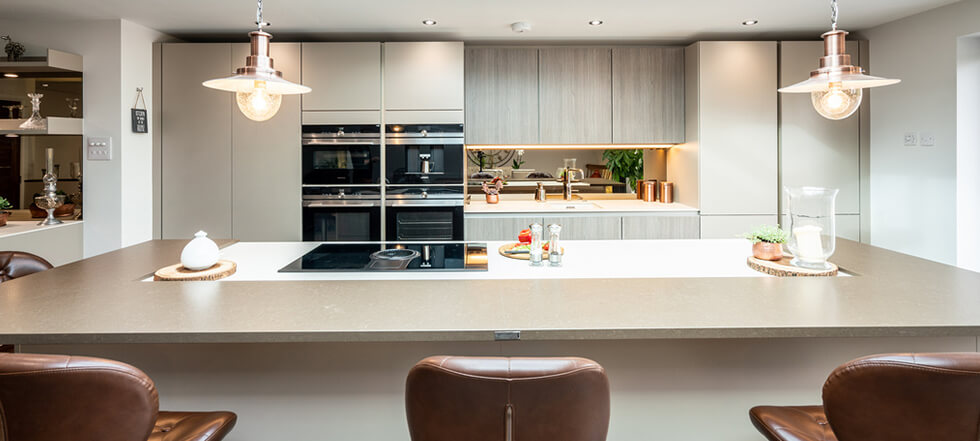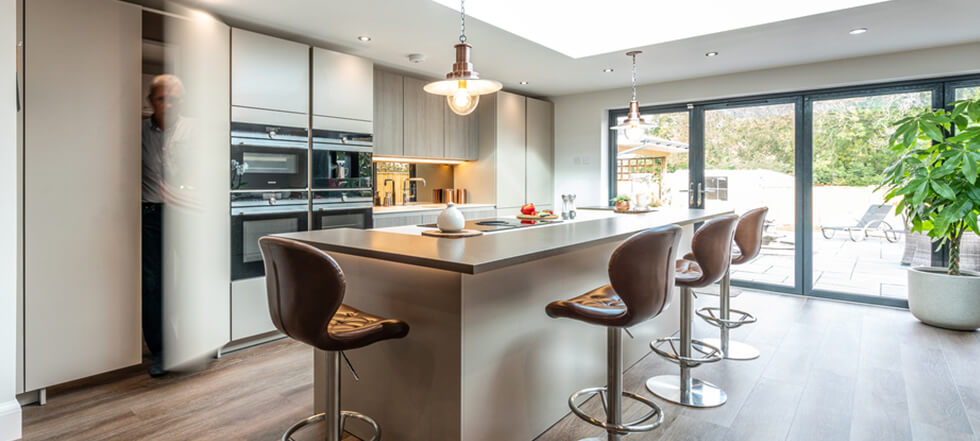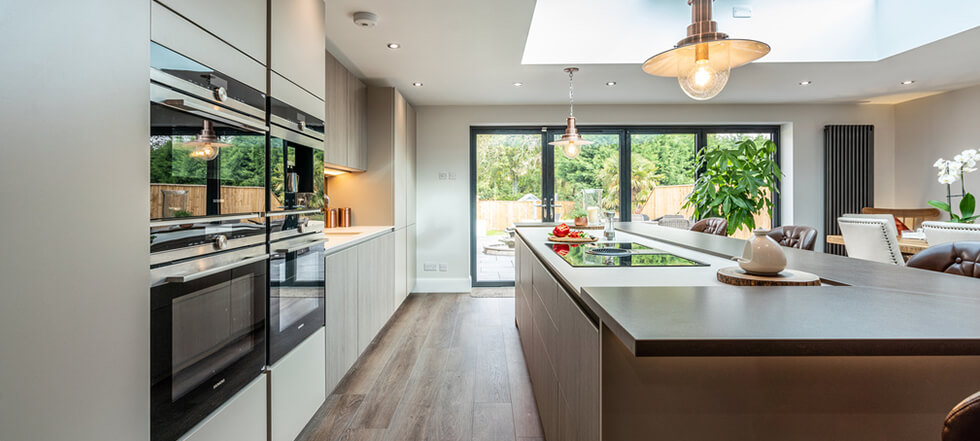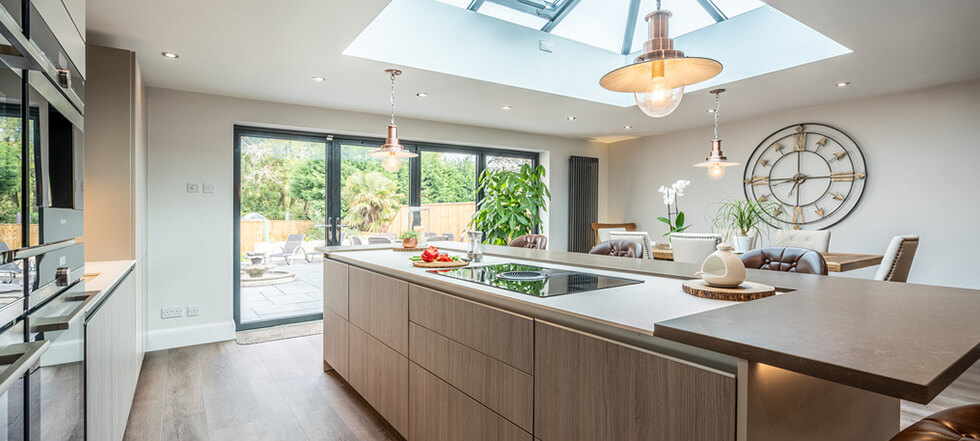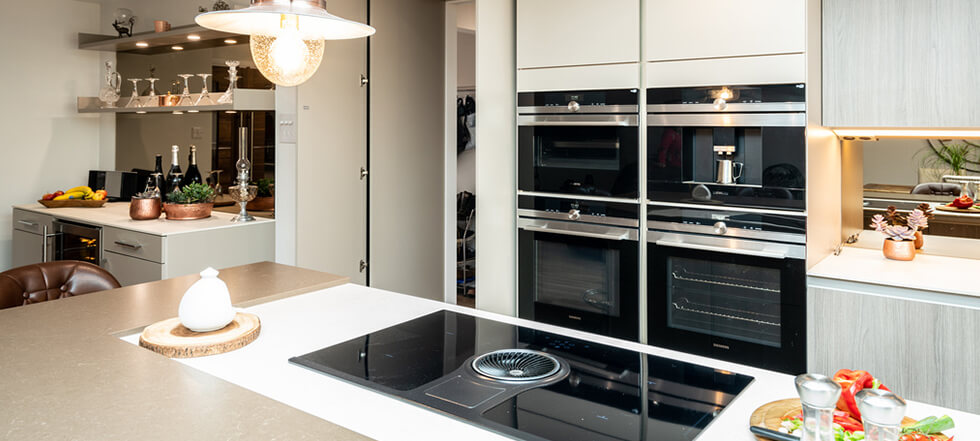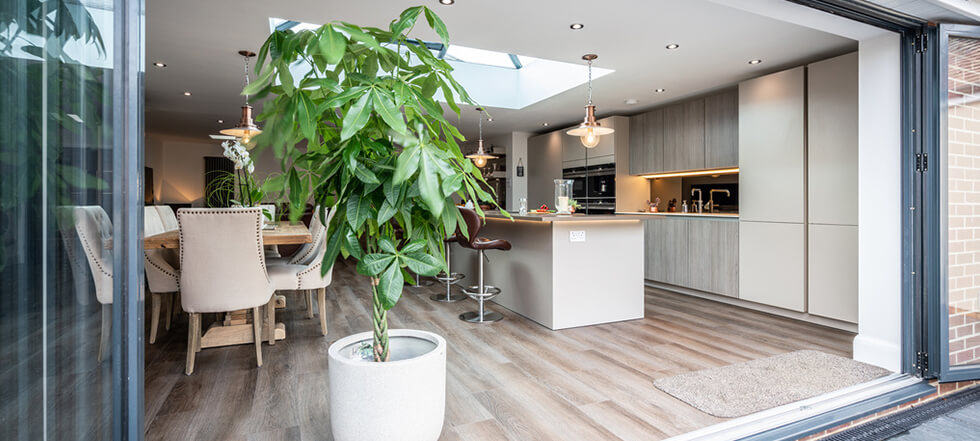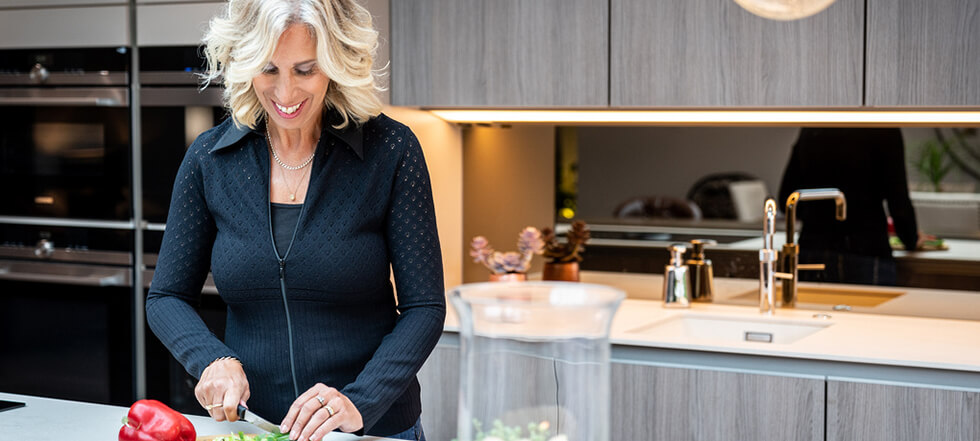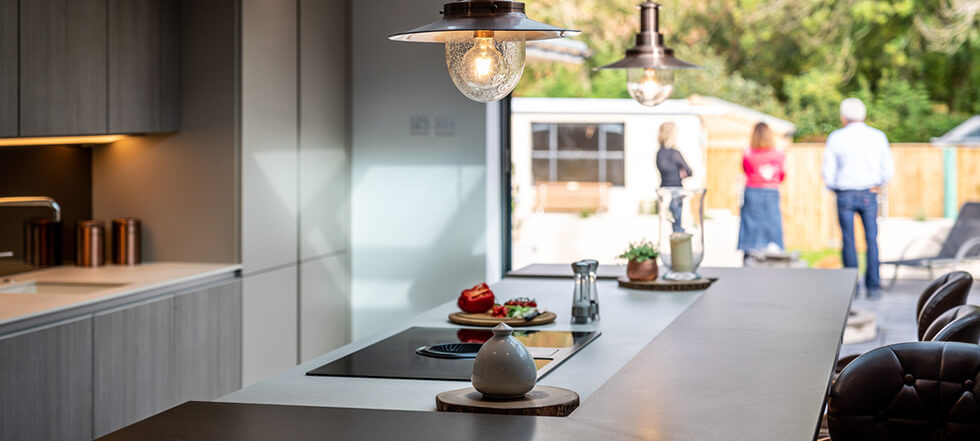 Brief
In the planning of their renovation works to their beloved family bungalow, it was integral for this couple to have an open plan kitchen living area that encouraged fun and relaxation all in one. With Heidi's love of cooking and entertaining it needed to be a space where friends and family could perch and chat whilst meals are prepared.
Challenge
We created a kitchen to house their chosen appliances with a sociable Island and a Wine area that sits between the spaces for use when formally entertaining or just relaxing together on their own.
The kitchen is SieMatic's SLC handle less range with contrasting colours of Java Oak in base and wall units with the tall units in Agate Grey. A bronze mirror on the sink splashback offers more light to open up the room and the mix of Dekton & Silestone worktops with contrasting colours adds to the mood of the room.
Their home office and Utility is neatly located behind the tall units, which is accessed through hidden doors between the Kitchen and Bar areas.
Outcome
The clients have a beautiful area to cook, relax and entertain friends and family in. Heidi is enjoying experimenting with various recipes and using their state-of-the-art Siemens appliances.
They look forward to warmer days when they can open up the back doors and enjoy the indoor outdoor living. Heidi also remarked that their daughter who has recently moved out now finds any excuse to visit and stay over rather than driving 20 minutes home!
Our Clients had this to say:
My journey to find my dream kitchen. I knew in my head what I wanted in a kitchen but it was a case of where do I go to find it. I started looking online, reading about all the different options, then came across the web site for Myers Touch in Winchester, it wasn't that close to where I lived but that was not important. They showed several different projects, which excited me and knew this was the place to go straight away for my kitchen. I rung to have a chat about the steps I would have to take. I spoke to Angela, who is the most knowledgeable person to get me started. Nothing was too much trouble. I knew I was going to be well looked after from start to finish. We went for our first appointment with Keith, he made us feel as ease with no pressure, which says a lot. We had four hours of sharing requests and wanting a lot of advice. We returned 2 weeks later to walk in to find our dream kitchen on a big screen. I knew from that point I was in the perfect place to get the German kitchen I have always dreamed of. Everything was planned to the finest detail when it came to installing the kitchen. If there was anything they were not pleased with, they replaced it immediately, they worked very cleanly. Tidied up after themselves on request they would tweak anything we asked without question. I am so thrilled with my kitchen, from when it was first finished to now. I would recommend anyone to go and make an appointment with the Myers Touch. Thanks guys for everything

Mr & Mrs Daniels